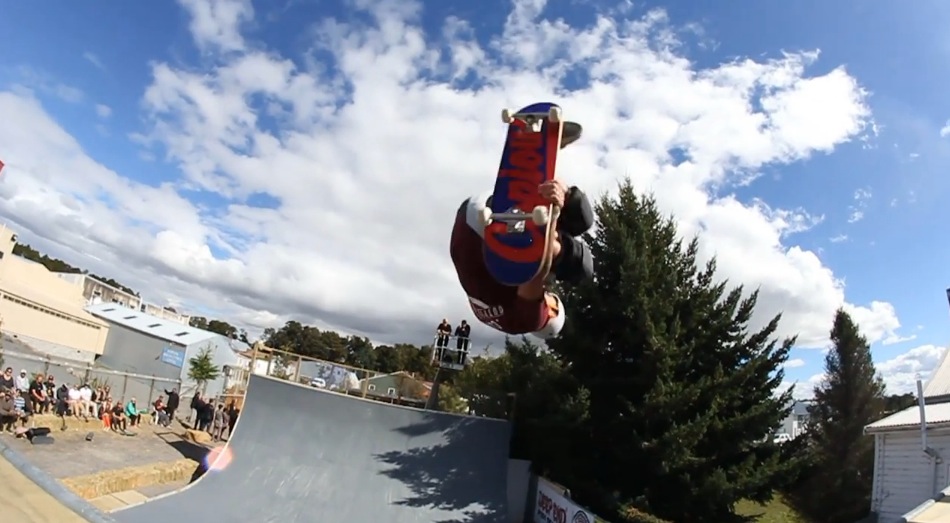 Monkeys on Yoyo's is New Zealand's newest indoor/outdoor skatepark, located at the base of the mighty Mt Ruapehu in Ohakune.  It is also the first park strictly for skateboarders in New Zealand and the only solar powered indoor park in the southern hemisphere!   The park is the brainchild of owner Nigel Horrocks who affectionately named the business after what the park builder 'Spittles' grandmother used to call skateboarders – Monkeys on Yoyos. The complex is built in and around an old hardware store and includes an 11 foot vert ramp, 2 indoor mini ramps and street course.  Horrocks chose Ohakune for the relaxed atmosphere, skiing and the wide variety of activities the Ruapehu region has to offer.
The park officially opened its doors to the public on April 6th this year with a Grand Opening Event that included live music and an invitational skateboarding competition.  The Exponents along with Emma Paki, Robbie McCulloch and The Sh*t Fight kindly donated their time on stage to support the skatepark in its next venture – building a concrete bowl.  The aim is to make Ohakune the Skateboard capital of New Zealand by providing a high level facility along with first class coaching programs.  Ohakune local Leroy Christensen is directing the 'Sk8 Skool' program that includes private and group lessons, along with the option of Snowboard coaching in winter.  There is also board and helmet hire so the kids won't be complaining about leaving the scooter or bike outside!
Monkey's on Yoyo's will be open year round, but will most certainly come into its own during the rainy days that occur every winter season in the Central North Island.  It is another great asset for the Ruapehu region and especially the younger generation who want to improve their board riding skills.
Along with the skating facilities, Monkeys on Yoyo's also includes an outdoor stage, lounge area and a shop.  There will be plenty happening there this winter including weekly yoga sessions, live music, skating competitions, art displays and anything else the team can come up with.
For more information on the Skatepark, Sk8 Skool and any other enquiries head to monkeysonyoyos.com or find them on Facebook.
Monkeys on Yoyo's is located ay 18 Ayr Street, Ohakune.