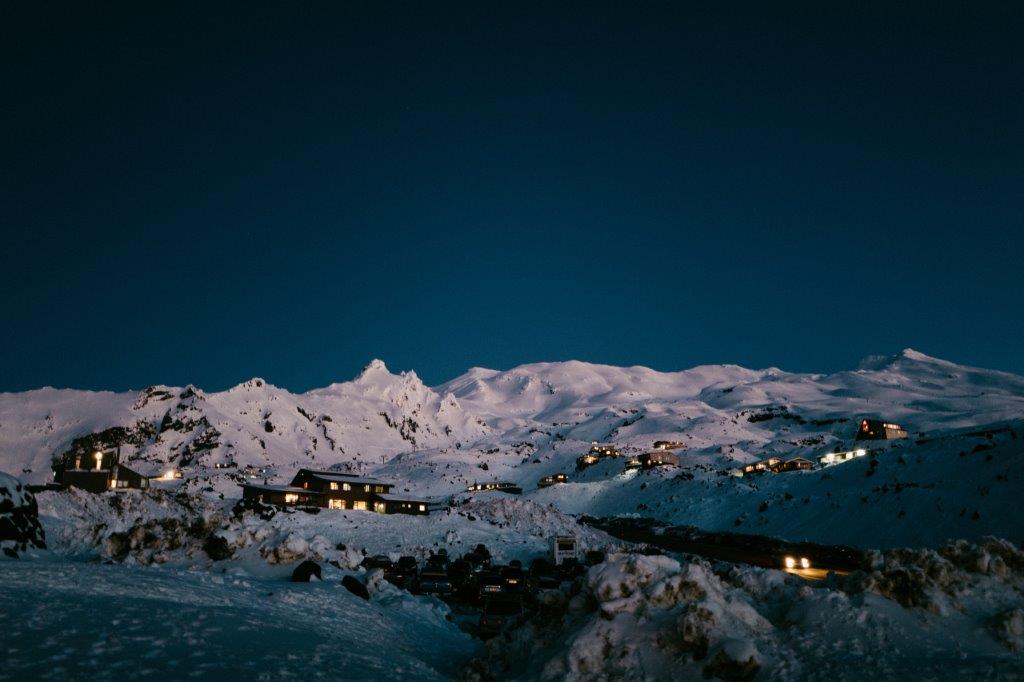 By Megan Prentice
Although a year round destination Ruapehu definitely comes under highlight in the winter months. Located in the middle of the North Island, south of Lake Taupo, Ruapehu is known for its famous three mountains, Mt Ruapehu, Mt Tongariro and Mt Ngaruhoe and that is what most often draws people to this area. The mountains which had a starring role in the popular Lord of the Rings franchise do not disappoint when off the big screen. The surrounding landscape varies from untouched bushland and mesmerising waterfalls to the abundance of volcanic rock, and desert.  This area is filled with exciting outdoor adventure and the surrounding unique towns offer opportunities to explore.
For those wishing to make the most of the ski season you will find Taupo, Turangi, National Park Village, and Whakapapa Village closest to Whakapapa Ski Field and Ohakune closest to Turoa.
Whakapapa 
The Whakapapa ski field is the largest ski field in New Zealand and is located on the Northern side of Mt Ruapehu. Whakapapa offers varying opportunity for breathtaking runs for all level of skiers with 25% beginners, 50% intermediate and 25% advanced terrain.
Whakapapa has a dedicated area for beginners with Happy Valley being a perfect training ground. Happy Valley offers learner conveyor lifts, a cafe, rental complex and a Ski school. There's also a sledding area for parents and their children to enjoy when not wanting to carve up the snow.

Intermediate and Advanced skiers will also enjoy this ski field with more than 50 groomed runs to master, including bumps, chutes and drops. This ski field is perfect for everyone and will cater to varying skills levels in families and groups. An exciting edition to Whakapapa is the Sky Waka gondola, due to open June this year. The fifty Sky Waka gondola cabins will feature floor to ceiling glass for breath-taking views, internal ski racks, audio and lighting and individual leather seats offering business-class luxury to passengers befitting of the UNESCO Dual World Heritage status of Whakapapa Ski Area. Each cabin accommodates 10 passengers and even the tallest skiers will be able to stand upright in the cabin with more than 2m of internal clearance. The Sky Waka will run from the Top of the Bruce base area directly to the award-winning, newly refurbished Knoll Ridge Chalet. It will transport 2,400 people per hour over the 1.8km in approximately 5 minutes. The Sky Waka will be open 365 days of the year and open up a range of alpine experiences for all ages.  Sky Waka is wheelchair accessible too.
On the southern side of Mt Ruapehu, you will find Turoa ski field, with a split terrain of beginner 20%, intermediate 55% and advanced 25%. Turoa is home to the nation's longest vertical drop at 722m. Their 6-seater chair lift, known as 'High noon express', will take you up to the highest lifted point in New Zealand. Alpine Meadow is perfect for beginners and offers a 120m long carpet lift. Intermediate and Advanced skiers will enjoy challenging natural terrain and amazing views.
Tukino ski field is situated on the eastern slopes of Mt Ruapehu, Tukino offers the chance to get away from the masses and commercial based fields. Tukino is a club operated field, so the sense of camaraderie and friendship is very apparent. Some say it imitates what skiing was like 'back in the day'. If you're a proficient skier (intermediate or advanced) with a passion for carving your own path and fueled by the sense of adventure. This ski field was made for you.
Activities off the slopes:  Wherever you are in this area of New Zealand, you'll find something to do, from exploring on foot or by mountain bike to exploring the landscapes by rail cart or jetboat with Forgotten World Adventures in Taumaranui, there really is something for everyone.
One of the most popular and well-known activities in the area is the Tongariro crossing. The 19.4km hike takes you up the mountain and across the surrounding plateau but ask anyone who has done it and it is much more than just a hike. The landscape is breathtaking, as it varies from steaming vents to glacial valleys, ancient lava flows, all accompanied by stunning views. The walk gives an otherworldly feel and when completed you feel a real sense of accomplishment. This is an unforgettable experience. You are able to book accommodation and transport taking you to the start of the walk and picking you up at the end of it, making it an easy activity to experience.
Rafting on the Tongariro River is the best thing to do when the mountain is inclement or when you've just had enough of the snow. Two companies operate out of Turangi, Rafting New Zealand and Tongariro River Rafting and both offer a range of rafting options on the Tongariro, starting with a family grade 2 family fun day through to multi-day adventures and everything in between. The most popular trip is the grade 3 rafting experience that runs daily during winter and twice a day through the rest of the year. It offers over 60 white-water rapids, from the Poutu Intake to the takeout point approximately 14km downriver.  The scenery is spectacular, the water crystal clear and clean enough to drink and you're likely to spot the native endangered blue ducks and plenty of trout.
The rivers in the area; Tongariro, Whanganui, Waikato, and Whakapapa, become the centre for outdoor adventure activities.The area surrounding the river is home to many off road trails, which become perfect for mountain biking, long distance running, hiking and all round sightseeing. The variation between the different tracks surrounding the region means there is something for every type of adventurer.
Any type of adventure your searching for exists here,
The adventure your dreaming of exists here, and it's versatile. Change your mind, change it again, you will still be accommodated for. So call up your friends and get going, what are you waiting for?!
For the best information visit www.visitruapehu.com