News
Snowboarder Thrown Off Lift By Skier in Aspen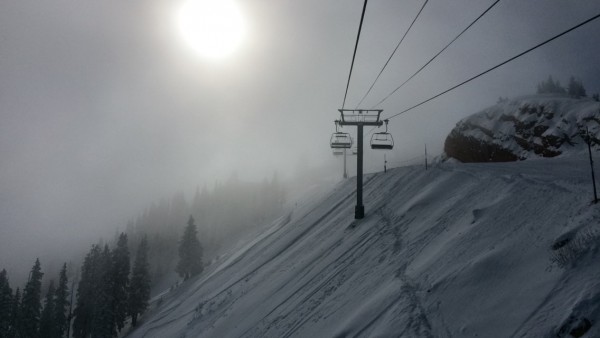 Aggression in Aspen : Skier Pushes Snowboarder Off Lift
Seth Beckton, a local Aspen snowboarder and budding photographer, found himself in quite the curious situation this past Sunday, as he was thrown off the the Loje Chairlift at Aspen Highlands by an aggravated skier.
Beckton was out early hoping to score fresh tracks, when he was recklessly pushed off the chairlift and plummeted 20-25 to the ground.
Beckton was having a mellow conversation with two strangers he shared the chair with, and made a couple comments about getting "tits deep pow". One of the skiers apparently took offense to this and got so irate that he pushed Beckton right off the lift. Fortunately, Seth fell right into a nice pocket of pow and didn't sustain any injuries.
Though shocked by the incident, Beckton didn't let this interfere with his powder quest, and proceeded to ride throughout the day. After talking with his friends, Beckton reported the ordeal to local Aspen authorities and took to his Facebook page to post a warning about the rogue skier.
WARNING! Be on the lookout for a skier chucking snowboarders off chairlifts. Yes, this is real.. Happened to me today while having a seemingly normal conversation riding up Loge chair at Highlands about pow when I made this comment "to get tits deep pow shots you just need to be on your edges." Unknown human skier who tosses people from chair lifts was wearing a 1/3 burgundy 2/3 tan jacket with gray pants, an old silver Giro helmet with old Smith sensor mirror goggles, he replied, "are you laughing at me?" Me "Kind of…yes?? " Well is this funny?".. he then proceeded to push/pull me off the chair. Luckily I fell 20-25′ into a fluffy pile of snow. So thankful that I was not hurt due to some asshole being offended by a non- offensive comment. Proceeded to get my turns in throughout the day on the lookout for the suspect without luck. Watch out for the above D bag, be safe people and for your own sake don't make jokes about having fun. Feel free to introduce the human hucking A-hole to karma if found on the mtn. P.S. Go Broncos!
"This is not the kind of behavior we want on our mountain," said Jeff Hanle of Aspen/Snowmass. "We will do our best to find the person," he continued in a statement.
We reached out to Seth for the full details on this ordeal and will be updating this story shortly. Stay tuned.
Ed Note: Aspen/Snowmass is one of our favorite resorts, this is an isolated situation, and Aspen also came in 9th place for our 2015 Park Poll.