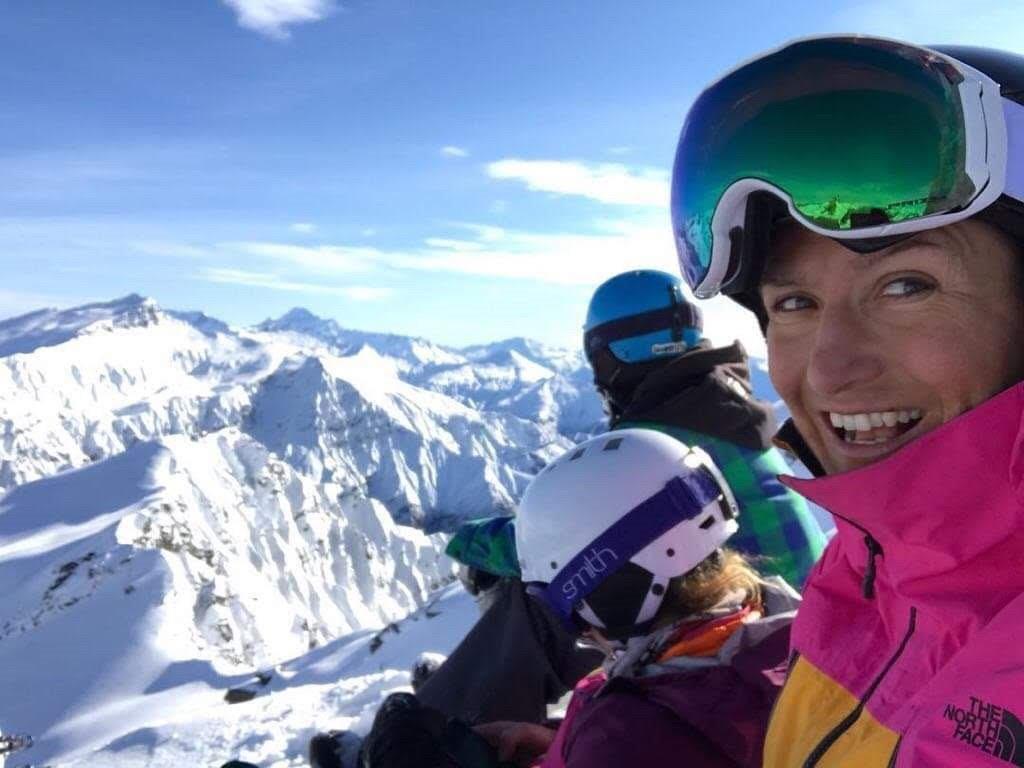 Maybe it was denial, maybe it was shock, maybe it was PTSD, maybe it was a combo of all. Whatever it was, charging mountains and carving rails was about as far from my mind as you could get for the many months I was well and truly deep in the trenches of recovery from said 'whoopsie'.
That late August morning, I had misjudged where I was and had taken one turn too many as I arced turns of white dusty chalk promptly proceeding to be bluffed and launched at pace off the precipice of Chute 7 at the very top of Treble Cone's Motatapu Chutes having had zero intention of going in there that day. Without any intention of being where I was, I embarked on the ultimate tuck-n-roll extravaganza over anything and everything in my path to come to a stop no less than 450 vertical metres below where I had unintentionally launched.
In full yard sale style, by the time I had ground to a halt I was minus anything that could be ripped off with the impact including goggles, gloves, poles and skis.
When you chew yourself up this well the helicopter comes to you. Cue a scenic flight in the Otago Rescue Helicopter, checking out from real life via anaesthesia to relocate my hip, a full body CT scan, a bulk bin supply of opioid pain relief, issued with a set of crutches and sent on my merry way the following day.
Everything was a blur, including how it had happened and why I was now couch bound looking at the mountains rather than being up and amongst them.
I was sore, but I'd been worse. The reality of what had happened was a long way off and my usual method of coping with the immediate shock of the situation was to find ironic humour when having to converse about what had happened.
"It could be worse", "I'm still alive", "I don't remember it after the 'oh f*&k moment", were a collection of some of the one liners I had on lock.
The days passed, spring sprang and as the lack of good news started to hit, the outward humour remained while the inner angst had begun to fester.
I saw specialists who mooted significant surgeries with long recoveries. Injuries that had been overlooked in the initial course of the trauma triage came to light adding to the load.
Thankfully (or not) I've been through my fair share of horror scenarios in the injury department and while it seemed like life was dealing me an unfair hand at the time; twenty years down the track, I'm grateful to have been through the washing machine of life with the odd cycle of heavy agitation.
When you're broken the outside world only sees the physical extent of your injuries, not the mental or the emotional turmoil that is often taking place.
And so began the ongoing journey of patience and acceptance. The inner acknowledgement of what had happened, the only option I had in those moments being to give my body what it needed to recover which was rest, sleep and the white flag to any kind of anxious worry.
Day by day, week by week the year ticked on. I went to hospital for a check up and as I hobbled out the old ladies on reception waved me on with, "you take those (crutches) home dear, you might still need them for a while yet"…..
Not only was the left side of my body obliterated with a blown shoulder, multiple hits sustained from my neck to my tailbone, a heavily haematoma'd left buttock, a fractured pelvis, a dislocated hip, fracture to the head of the femur, a full tear of the MCL, a fractured tibial plateau, some sweet scars down my lumbar spine courtesy of the rocks I hit mid tumble….. and a head injury which was yet to raise its hand following a long period of unconsciousness post tumble. But if I was cleared to walk, then I was determined to start to hobble my way back to normal one step at a time.
I'd hobble to the lake and have drivers stop and ask if I needed a lift. I'd thank them and usher them on, the stoic inner warrior coming to the fore.
I ratcheted up my mountain bike seat, battled to put on my sneakers and worked out how to get on my bike with a heavily incapacitated hip…and for the first time in weeks started to feel the fresh air of spring brushing my cheeks as I cautiously navigated the flattest and safest trails surrounding the lake. The impact was as much mental as it was physical and I could feel my system taking a sigh of much needed relief to be flushed with oxygen and subsequent endorphins once more.
I made my way back to California to see my Doctor who has put me back together a number of times over recent years. In lieu of major open hip surgery and a 12 month recovery I was placing my bets in a handful of injections of the regenerative medicine variety. I came home bound with enthusiasm to get stuck into the 'work' of recovery only to walk into an overhanging rock on the side of a trail days later when the brim of my cap shielded my peripheral as I looked to where my feet were going.
If I had lucked out on the consequences of being knocked out one too many times when I fell, getting blind sided by a rock on the side of a popular local hiking trail was about to take my down. BIG TIME.
For those that have suffered concussion, post-concussion, TBIs and other head injuries it can only be described as "suffering in silence". Functioning like a normal human goes out the window and coping with life can become a monumental challenge on the daily.
"But you look fine", they would say, oblivious to the state of my head and only seeing the physical improvement I had made. I fast became a social recluse unable to cope with the constant questions, bright sunlight and loud noise of social situations.
I looked at my bike and would be paralysed by choosing what kit to wear, what gear I would need or what direction I would head, instead throwing on a worn out old pair of trail shoes and walk the same track daily; sometimes twice.
I was in depths of battle and my only option was to keep showing up. I had to learn the art of self preservation and how to say 'no' in order to preserve the precious energy I had for myself to get through the day.
As the months rolled by and the physical injuries healed I found my way back to the yoga studio. It was hot, it was uncomfortable, it hurt, it was hard, but the lack of judgement and welcoming environment was the elixir I needed when I needed it the most.
Daily practice often became twice a day and my body began to move as I knew it could.
Walking turned into jogging which in turn became running. I started to get my memory back and cognitive function back and to cope with public situations once more.
But had I truly dealt with the subconscious reality of what had happened? One of the ways I had coped with the ongoing recovery was to remove all expectation and to focus affecting what I could on a day to day basis knowing that if I just kept 'showing up', I'd eventually get to where I wanted to be and sometimes the only way to confront fear is to tackle it head on, even if I often didn't know what it was.
The question of would I 'ski this winter' was ever present and my response would be to send the person asking off with a succession of riddles for them to ponder.
But courtesy of a late start to the season and some mind blowing progression on the recovery front, the unthinkable happened and I found myself back up the hill. I found my feel and without any encouragement was back skiing lines that I always have and laying my planks sideways in the relentless search for the endless carve.
It still astounds me that I was able to get my head around skiing again, let alone ski the terrain that had caught me out. Simply, it came down to focussing on the 'doing' to get my head around getting back on the horse and regaining the confidence to 'do'.
There's a number of lessons I've embraced from this imposed period of recovery but resoundingly 'choice' keeps coming to the fore. The choice to be 'relentlessly optimistic', the choice to 'look outside the box' when it came to recovery, the choice to 'keep showing up', the choice to
affect what I can on the daily', the choice to 'confront myself with situations' that bring feeling of discomfort.
Ultimately, it's been the choice to commit to 'facing fear' head on.