Features
New and improved transport options at The Remarkables ski area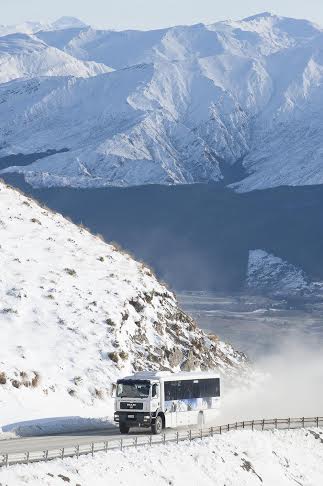 A new 'dropzone' designed to get skiers and snowboarders onto the snow quicker and easier than ever before is an integral part of an improved transport system at The Remarkables ski area, Queenstown.
As part of the new state-of-the-art base building development, the arrivals area has been redesigned and improved so guests can drop off family or friends and unload ski gear more quickly and efficiently.
Ski area manager Ross Lawrence said the improvements provided "speedy" access to the snow and the mountain's world-class facilities.
"We've significantly expanded and upgraded the drop zone so buses can turn around more comfortably and cars can unload easier, right on the doorstep," he said.
"The drop zone is big and flat and people will be encouraged to go up there first before heading down to park
"In that top area there are also limited car park spaces for families with small children near the base, and a designated route for pedestrians so they're safer when crossing the road.
"Shuttle buses will operate all day long bringing people up from the lower car parks to the base and with our new Car Park 4 at the Homeward Turnaround there's over 100 additional car parks compared to last year."
During peak times such as school holidays, on big snow days and at the height of the season, more shuttle buses will be in service.
Throughout the season, guests without cars can catch one of the purpose-built alpine 4WD buses from Queenstown and return on a frequent service running throughout the day.
"With our dedicated bus service, there's no question that people can get up the mountain with ease," said Mr Lawrence.
"They can jump on, sit back, relax and enjoy the incredible views.
"Even if they do have their own vehicle or they've hired one for their holiday, it's so much easier to take the bus. There's no need to worry about chains or road conditions, as our experienced andtrained bus drivers do that job for them.
"We have a fleet of 10 buses that we'll increase during school holidays to cover the extra guests, carrying up to 44 people at a time. The bus guarantees guests a door-to-door service that saves so much time and effort."
Multi-ride bus tickets guarantee an affordable option for regular visitors, saving even more time and money.
Great savings can be made with a 'Multiride 5' (five return trips for $72) or 'Multiride 10' (10 return trips for $132). A single return ticket is $20.
For daily information and snow updates on Coronet Peak, The Remarkables or Mt Hutt ski areas go to www.nzski.com
ENDS
Picture caption:
1/ Breath-taking scenery as the bus transports guests up to The Remarkables ski area
For more media information or higher res images please contact:
Ross Lawrence
Ski Area Manager The Remarkables
P: 027 555 6698
Or
Fiona Woodham
Media Liaison, NZSki
Ph: 0274 313 270 / 03 441 1117