Features
Pride & Disappointment for Snowboarder Zoi Sadowski-Synnott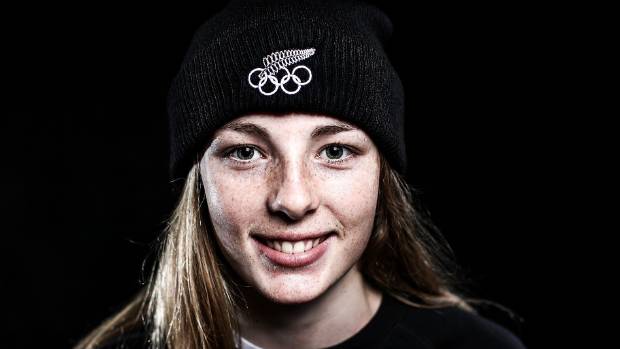 New Zealand snowboarder Zoi Sadowski-Synnott has finished 13th in the slopestyle at the PyeongChang 2018 Games.
With yesterday's qualifying rounds cancelled due to strong winds, competition was cut back to a straight two-run final for the whole field. Following a reasonable weather window during training, the 26 competitors were once again challenged by gusty winds for the judged runs. With everyone in the final, the bottom of the field were pushing their own limits while the top of the field were strategizing and playing it safe.
After a good training session New Zealand's Zoi Sadowski-Synnott was feeling confident and on track for a strong performance, with a well-rehearsed run tailored to the exciting course as well as the conditions.
Her first run saw a bobble on the landing of the second rail feature which interrupted her flow and meant that she was unable to carry speed into the first jump and crashed on the knuckle.
Taking the crash in her stride as a normal part of competition the young Kiwi returned to the top of the course confident that she still had a medal-winning run in her arsenal and could lay it down on her second attempt.
Unfortunately, it wasn't to be, with Zoi slipping off the second rail feature and then reverting on the landing of the third feature.
Even knowing that her medal hopes had been dashed, Zoi was never going to give up on the course and went on to land a frontside 360 before finishing her run with a flawless double wildcat, exactly as planned, making her the only rider to land a double flip in the whole competition.
"That made me feel better," said Zoi.
Asked if weather had played a factor in her runs the New Zealander was keen to underline that it was simply a part of the sport.
"It's just part of it, we train for this, and the person who ends up on top is the person who can ride well in any conditions."
Experience certainly proved to be the winner on a challenging day with Jamie Anderson, one of the sport's most decorated athletes claiming her second Olympic gold, 2017 world champion Laurie Blouin claiming silver and Sochi silver medallist Enni Rukajarvi this time claiming bronze.