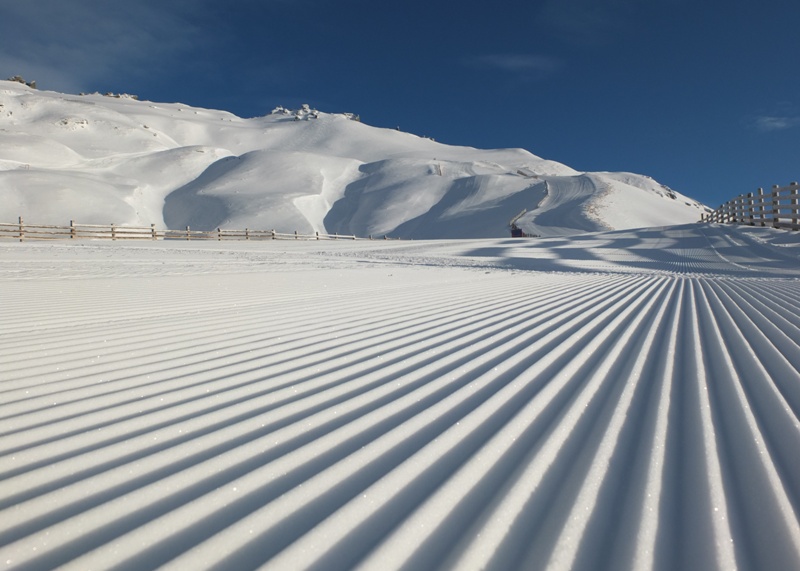 The South Island's largest ski area – Treble Cone (Wanaka, New Zealand) has enjoyed its busiest ever start to a snow season and has set new records for both its 'busiest week overall' and 'busiest July ever'.
With fantastic pre-season and early season snowfalls the entire mountain including the Home and Saddle Basins, the right-of-passage Summit Slopes, the revered expert only Motatapu Chutes, and the Matukituki Basin were all open from Opening Day.
Over the first week of the New Zealand school holidays Treble Cone enjoyed its busiest ever week of skier visits, with all terrain open spreading guests across the entire mountain enjoying the cold dry snow.
With no 'closed days' to date, a great product offering across the mountain and relatively good weather for skiing and snowboarding, Treble Cone has also enjoyed its busiest ever July in the ski area's 47 year history.
Visitation to Treble Cone for the month of July was up 34% on the five year average. Throughout this period Treble Cone has had strong domestic visitation coupled with an increase in the number of international visitors, predominantly Australian's enjoying the mountain's terrain, snow, and views.
The earthworks and snow fencing that were completed over summer in the Saddle Basin to open up more groomed intermediate terrain have seen Saddle Back and the new Side Saddle trail groomed earlier in the season, more regularly, and wider than previously, increasing the intermediate terrain to enjoy.
The introduction of The Cheeky Kea Burger Bar and Cafe in the Base Building, providing a more premium dining option – with everything from the brioche buns to the burger patties and chutneys made on the mountain has been well received by guests. The second new dining outlet, the new container cafe – Altitude Espresso & Pizza powered by Allpress, at the top of the Home Basin, serving barista made coffee and chef cooked-to-order pizza have also been well received, providing a stunning location to refuel and time-out on sunny days with spectacular views over Lake Wanaka and the ski area action.
The 5.8 magnitude earthquake that shook Wanaka on the 4th of May resulted in underground water pipeline damage to Treble Cone's snowmaking system which has been progressively discovered, limiting the areas over which snow has been made. Through the efforts of a dedicated and hard working snowmaking team, who have identified, excavated and repaired snowmaking water leaks as they've been discovered, coupled with favourable snowmaking conditions, Treble Cone has been able to successfully make snow across the lower Home Basin trails for 536 hours over 28 days, and pumping 67.2 million litres of water to date.
As of today, the Saddle Basin snow depth measured at the top of the Saddle Quad Chairlift is 248cm, and the Home Basin snow depth measured at the top of the Home Basin Express is 91cm.