News
Kiwi's shine at The North Face Frontier 4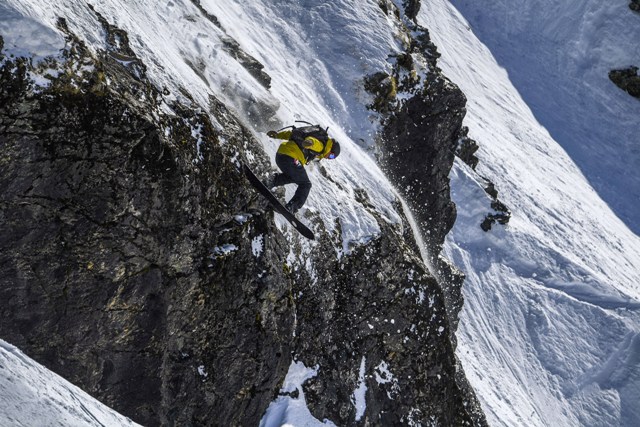 Kiwi underdog Blake Marshall from Queenstown rose to the top today at The North Face Frontier 4* Freeride World Qualifier (FWQ) Event. Impressively jumping from 856thon the international rankings to number one on the men's ski podium today. His win was against some international greats and the local Queenstown young man showed his style and class in the Big Mountain event as part of the Audi quattro Winter Games NZ. This win will give him valuable points towards qualifying for the Freeride World Tour, the top pinnacle of the sport.
Getting him there was a wild run kicked off with a switch one into a double cliff drop, followed by a left 360 directly into a right 360 and a big ol' Cossack. Marshall was not finished there, he continued into exposure, effortlessly airing the classic waterfall double cliff drop and another monster air before the finish line. "I felt really good, I knew where I was going and I felt confident" – clearly a winner's mindset from Blake Marshall today.
The Kiwis proved to be unstoppable in Ski Men with Marshall being followed by Canterbury (NZ) boys Julian Jamesa Hampton and Craig Murray (Freeride World Tour athlete).
The Ski Women category was championed by the brave, gregarious Jessica Hotter of Ohakune. This lady knows how to handle hard and fast conditions. She earnt her winning spot by skiing the classic elevator line with fierce fluidity and some serious airtime.  She was followed by Emilie Terane of France (2nd) and Sofie Gidlund of Sweden (3rd). Hotter expressed various expletives and also the following profound quote to convey just how good it felt to win today: "AWESOME!"
The entire women's field brought speed and technical control to the event today, with strong, fast skiing and some huge airs. This impression was noted by title sponsor The North Face who this year offered equal prize purses for both Men and Women. Closing the gender gap in action sports is a high priority for TNF. They've stated that offering equal prize money is just one of the ways they're looking to encourage more women to push their limits in the outdoors.
Spaniard Nuria Castan Baron backed up her win in The North Face Frontier 2* FWQ to take out today's 4* TNF Frontier title. "I was really confident after winning the 2* on Mondayand I was feeling good in my legs so it went well!" Fast and fluid, Nuria's legs carried her all the way to the top of the podium. Joining her on the steps was Randa Shahin of the USA in second place and Claudia Bings of Germany in third.
If Blake Marshall was the underdog, Cody Bramwell of Sweden is one of the FWQ top dogs. After narrowly missing the cut to qualify for Freeride World Tour 2019 (FWT), Cody travelled to New Zealand determined to get the results that will make his FWT dreams a reality.  His riding shows a wealth of experience beyond his years and we can expect to see a lot more from Cody this season. "That was the technical run I need to land for the win, so I'm really happy." Patrick Van Horn (USA) sent a big line that placed him second behind Bramwell with Roland Morley Brown of NZ grabbing himself yet another TNF Frontier podium.
The day was enjoyed by a huge crowd of enthusiastic supporters, freeride enthusiasts and fans. The people's choice goes to the Para Athlete Patrick Halgren of the USA who absolutely blew the audience away by skiing the tricky and expert venue on one leg taking massive airs and cheers in his stride.
It's been another colourful edition of The North Face Frontier, we look forward to seeing it grow year by year.