Features
Sapporo -land of the rising sun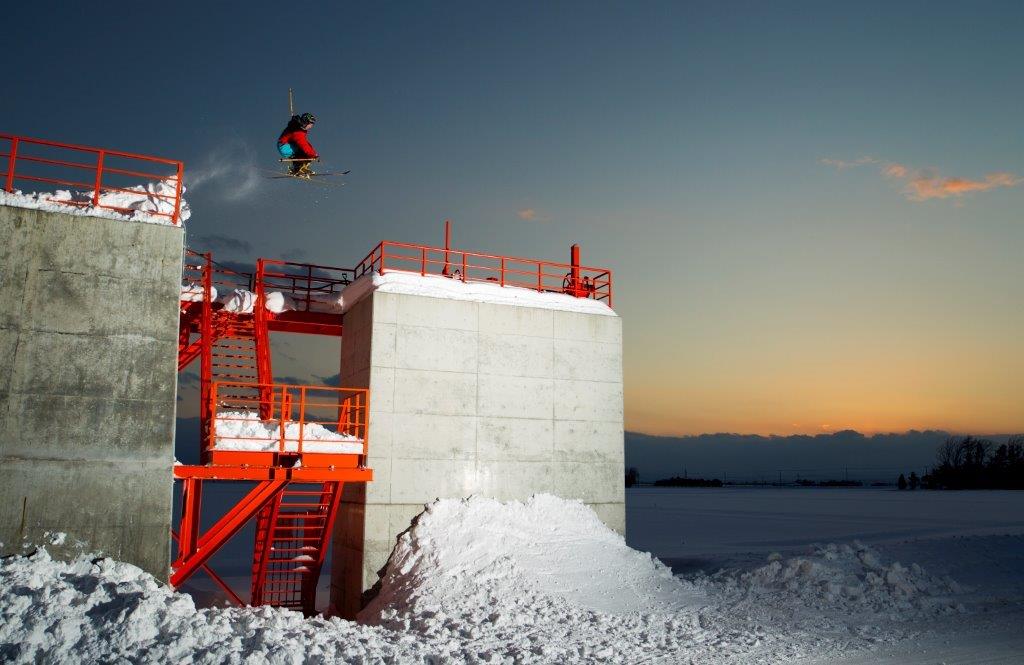 It was our second night in Sapporo and it happened faster than the death of Twitter. We had a couple of local ski kids guiding us, as our real guides couldn't join. It was a wide bar down flat down rail set up that we had hit a few times when the first two police arrived. And as soon as they did, our "guides" instantly vanished. Our attempts to extinguish the situation ensued with fake smiles and sign language negotiations. Then four more police officers arrived. No one in our crew spoke a word of Japanese and the token English word uttered by the cops was "passport". Within 15 minutes, a mellow 14 police officers were on scene and, while they were astonishingly polite, the situation seemed much gnarlier than what we were used to. Our entire crew, along with all of our gear: generator, lights, cameras, tripods were corralled into a Japanese paddy wagon and driven away.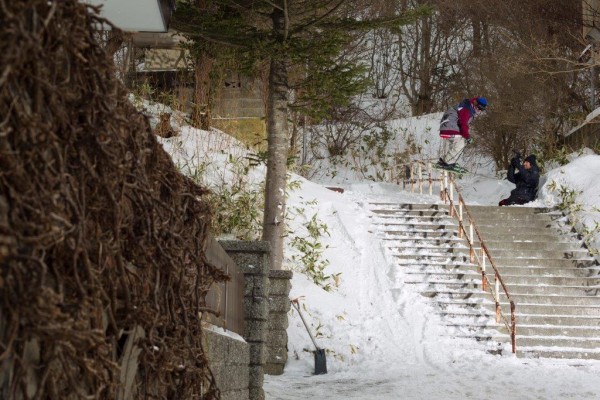 I neglected to inform the crew that my photographer friend had been to Sapporo two weeks before with a snowboard crew and told me that the urban features were the biggest bust ever and we were going to spend a lot of time talking to the police. At the time, I felt that sharing this with the athletes and video guys was counterproductive; it could have swayed the decision on whether or not to make the trip. Banking on our inability to speak the language seemed a solid enough plan…no need to trip anyone out before flying over six thousand miles to slide down some metal on skis.
Hindsight is always 20/20.
Much later that evening, after a complete passport check by police and undercover police, we reacquainted with our allusive "guides." It was then that we talked about the cops. They informed us "Japanese like foreigners, but they hate other Japanese". They coupled that with the fact that they had "a little bit of weed" on them as the reason for their timely departure. I conceded. In Japan, even 20 bucks worth of weed will land you in the slammer for easily a year. Japanese skiers keep their distance from police, and rightfully so. Our trip's succession brought us to features further and further outside the city (less cops), a shame because Sapporo has more potential for urban shredding than anywhere in the world.
The Northern Japanese Island of Hokaiddo is an absolute snow magnet. It's rare that a January passes that isn't all time epic. The calls started flooding in from Japan late in the month of December, claiming three-foot storms with no end in sight. By New Year's Eve, the mountains outside of Sapporo had received more snow than 90% of the world's ski resorts receive in an entire year.
An endless urban landscape with over two million inhabitants buried in snow for most of the winter, Sapporo is the most populous snow-laced city in the world. With this winter shaping up to be exceptionally good, a few phone calls to Level 1 Productions were made and the dream jib crew, comprised of Tom Wallisch, Mike Hornbeck, and Alex Bellemare, was assembled and booked to Sapporo.
We convened in LAX, jumped over the Pacific and touched down in Sapporo via Tokyo.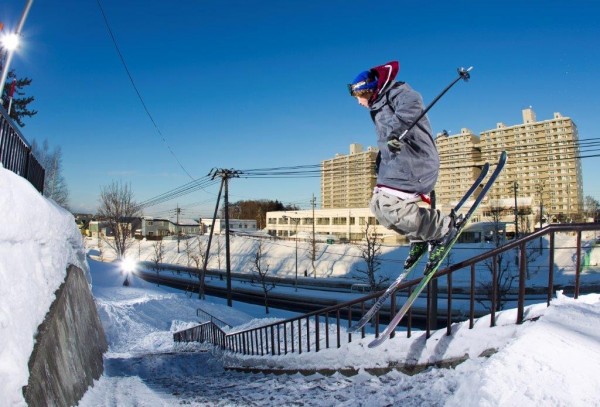 Nuclear reactors burning smoke miles into the sky were visible from our Tokyo-Sapporo flight. Many feel the radiation is blowing into Tokyo. "The government is lying to the people about how dangerous it really is," a resident informed us. He said his friends have Geiger counters and are taking readings in Tokyo. Their findings aren't good. The surf break near Fukuyama power plant has been rendered unsurfable for years to come, some 25,000 years. It was previously one of the more consistent and desirable surf breaks in Japan. Adventure tourism in Japan could use a boost, that's one thing on this topic that seems safe to say.
On final approach to Sapporo, we could see man-made mountains of snow larger than many resorts in the Midwest, dotting the outskirts of the city. Those mountains turned out to be snow removed from the city by thousands of large dump trucks working seven days-a-week around the clock. Some towered over 200-feet and had trucks and excavators compressing and shaping them to allow for more heavy equipment to drive over them. These 21st century pyramids, constructed out of snow, were not expected to completely melt until mid-July.
With over 45-feet in the mountains and 20 in the city, it was the most snow the North Island had seen in over 100 years.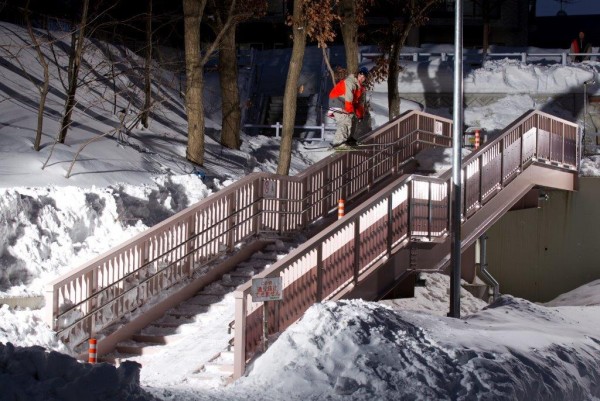 We were met at Sapporo Airport by a rental van stocked with generators, lights and our guide, a skier named Bull. Bull is one of Japan's best all-around skiers and conveniently, he spoke very little English. Shredding bottomless pow in the Hokaiddo area and jumping off three-story buildings to very small transitions in Sapporo is Bull's MO.
It took us very little time to realize that Bull was a loose cannon in a good way: crazy and ridiculously hilarious. Throwing up dual peace signs, laughing and saying "No Engrish!!" then laughing more, was his go-to expression. He was injured with 4 broken ribs from a skiing stunt gone awry, but he was more than happy to drive us to the local spots while chain smoking inside the car with the windows rolled up. He smiled as much as he smoked and he was the instant mascot of our voyage.
The average city would be decimated and in a state of emergency by the amount of snow that fell during the one week we were in Japan. It snowed well over a meter, but Sapporo ran as silky smooth as New York City on a sunny April day. The second closest large city in annual average snowfall to Sapporo is St. Petersburg, Russia, which receives only half the amount of Japan's snow metropolis.
Following our release from custody, we had to come up with a solution to explain our presence at the local urban jibs. Thanks to Hornbeck, the perfect one fell into our laps the next day as we were preparing an urban gap jump on the grounds of a school. After being informed of our illicit activities by a few concerned locals, the school's principal came out and asked us in Japanglish what was going on.
"We are making a movie to promote skiing and tourism in Japan," Hornbeck deadpanned. "We love it here and we want to encourage more Americans to visit Japan." Instantly, the rest of our crew joined in, embellishing our "Tourist Video" as we saw the demeanor of the mid-50-year-old man quickly change from suspicious-accusatory to interested-appreciative.
Evidenced by his willingness to concede, Japan indeed has had a very rough go of it as of late in the tourism industry and everyone, including this principal, has felt it. It didn't hurt that the high school was the alma matter of Japan's only Female Gold Medalist in the '98 Winter Olympics, Tae Sotoya. The Principal gladly let us hit the gap and even helped us by coordinating some students to pose underneath it for a photo.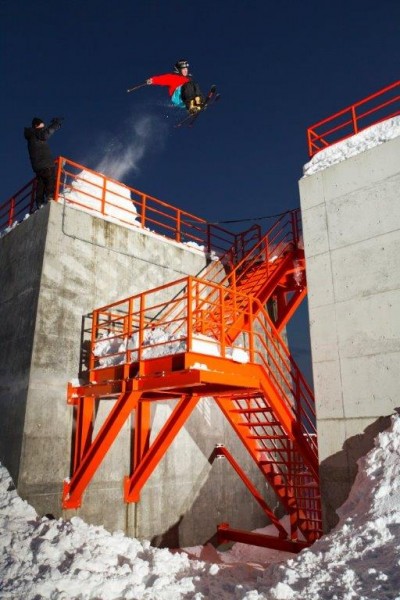 Tom Wallisch proceeded to throw what we think is the first urban double back flip over a gap, and Bellemarre crushed some stylie rodeos. "Who needs to go to the backcountry when you can build kickers in the city?" Wally joked.
There are 1133 SeicoMarts on the Island of Hokaiddo. The crew stopped every day at SeicoMart, sometimes twice a day. Think 7-11, with more interesting snacks, huge liquor selection and great Japanese school girl magazines. This was Bellemare's first international trip and he was diving right in, eating all kinds of crazy dried fish and weird shit from SeicoMart. He also got the award for being the only one in the group to eat pureed raw crab brains. Yum.
Alex Bellemare is 18 years old and lives in Quebec. He's already secured the cover of the first major ski movie he's appeared in, which happens to be Level 1 Production's After Dark. Bellemare is part of the new guard of freestyle kids, he grew up in the park, has mentors like Phil Casabon and absolutely crushes it. He's got a quirky sense of humor, and comes off a little spacey, but he's not. "The kid's the real deal" Hornbeck claims about Alex, "he's just crazy enough to be really good and he makes everyone laugh, so I am sure he'll be staying around."
Going on a rail trip with Tom Wallisch as a photographer is sometimes a little frustrating. There isn't much doubt that he's king when it comes to gnarly technical rails, but he likes to do switch ups and for us photo types, those don't always look so hot. This trip Wally was a new man, he said that he was going to do a few rails 'Hornbeck' style.
"Hornbeck's the most emulated skier in the world," Tom said as he tail to nose presse a down flat rail with a foot long gap between (an extremely solid looking yet very non-Wallisch.
Tom stood atop virtually every major slopestyle podium this year. Hornbeck doesn't compete, or have the house, cars and money that one amasses from contest purses and win incentives. Mike Hornbeck is a working man's skier and Tom Wallisch gives respect where respect is due. Both admirable and in the case of this, their polarizing attributes jive incredibly well.
The best site in Sapporo during the winter isn't the annual Snow Festival where they build multi story replicas of famous buildings such as the White House out of ice, but rather the mini skirts on the local female populations in the blistery -15 degree nights. It's not clear which girls are working girls and which aren't, but they all wear skirts shorter than most girls would wear during summer in Stockholm. Stilleto heel boots complete the outfit. The snow blows sideways, the girls flinch a bit, but it's just another Tuesday midnight and the streets are full of impressively long well-kept legs. Japan is internationally known as an iconic country when it comes to style, but this takes it to another level. Hopefully Toronto, Helsinki, Ottawa and other snowy cold cities will pick up on this aspect of culture. It would make a few million men a lot more happy in the depths of winter. Just because you should be wearing a full length down parka and beanie, doesn't mean you should.
With over 10,000 working girls in Sapporo, the Japanese business men have plenty to do at night, they can be seen stumbling out of karaoke bars with a pair of skinny legs and spiked heels half their age. After a day on the ground in Sap Town, it just seems normal. None of us have any complaints as most our trips find us locked away in some mountain town with bush pigs masquerading around as eights. These usual mountain town girls pack about 20 extra pounds around the waist, and still have their pick of the crop as they are the only five girls in the bar. Scoping legit eye candy at midnight after sessioning a rail for hours in the darkness was a little frosting on the cake for the crew.
Bull lives in Breckenridge for the early season and has an American girlfriend who grows green plants with buds on them for a living. When I asked how they talked to each other as she speaks no Japanese and his English is limited to the extreme basics, he held up his phone to show us Google Translate.
Bull is someone you are instantly drawn to, he's an American Legend. He is the first Armada sponsored athlete in Asia and he's dialed in a country that is still transitioning into the formative years of skiing as we know it. He's the Mike Hornbeck of Japan: everyone loves him, and his hilarity and style trump all language barriers. He was such a legend on our trip that Hornbeck and Decker called the Level 1 Productions bros in from America for another two weeks and they all stayed with Bull at his house with his parents and take advantage of the record-breaking snow year.
The last day of the trip brought us to a pair of cement structures off the side of a road on the outskirts of town, near where Bull was born and raised. Surrounded by nothing but farmland, the structures were probably used to store grains or rice, kind of the urban jib feature antithesis. Hornbeck and Bellemare went to town on tow-in wall rides with Bull behind the wheel, gunning the mini van to about 80 kph for the lofty elongated wall. Bellemarre crushes it in a few tries and sits down. Hornbeck rocks out numerous stills and video shots and Wallisch just sits and takes it all in cheering on the guys. Wally sitting out a feature is a rarity, for sure.
When all is done with the boys wall-riding, Tom climbs to the top of one tower, looks out at the other and says he thinks it will go. The 'it' is a transfer from one tower across a sizeable gap, landing on the vert wall of the other tower onto a 4-foot tall transition at the bottom. If it was up to me, I wouldn't have allowed him to do it. I don't need people getting broke off on shoots. I am getting too old and the kids are getting too damn good. The consequences of some urban features have gotten to be as serious as a wrong turn in Alaska and this transfer feature was one of them.
Tom sizes it up and calls for the bungee to spring him into the feature. I maintain only to myself that it's insane. At the end of the day, and at the beginning of the day, I am not going to argue with someone of Tom's caliber over his personal safety. Considering many of the most consequential urban features done in the past few years have Tom's stamp of ownership on them, I hold my tongue and shoot. Even Kyle Decker, Tom's primary filmer, holds his breath for this one. Decker knows that a few feet off in any direction means serious problems.
Tom guinea pigs it and you can tell even he's a bit nervous. He nails it first try, a little wheelie out, but that's minor. It's game on and Tom begins the session. He hits it a half dozen more times and just before the sun sets on our time in Sapporo, he gets the shot. "That's the gnarliest urban feature I have ever hit," he claims—a heavy comment from Mr. Wallisch.
It's time to pack up the crew and head back for a late sushi dinner in snowy Sapporo. Maybe we'll make movie about it so more Americans go there to visit.
words and pics by Chris O'Connell