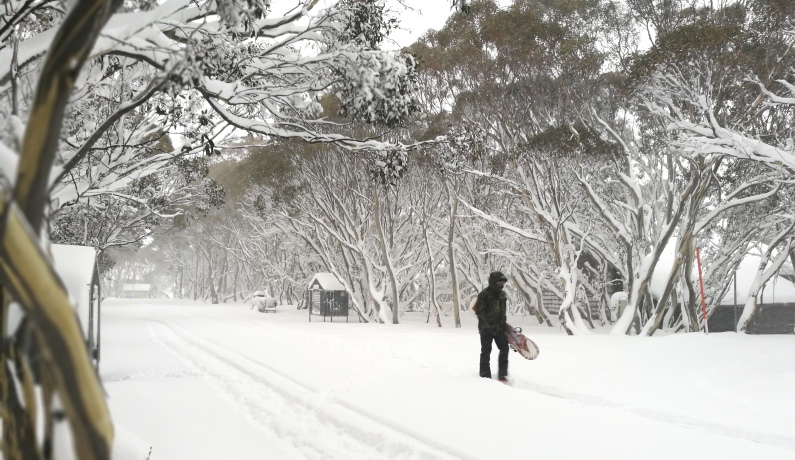 With 30cm of snow already on the ground at Mt Hotham in less than 24 hours, there is a lot more to come over the next few days, according to predictions from the Bureau of Meteorology.
With winds expected to stay fairly strong and a total of up to a metre of snow expected by the time the weekend is out, travellers are urged to prepare for the trip and expect a slower journey in the conditions.
"It's important that people carry chains and fit them as directed, and if driving a diesel vehicle fill up with Winter Mix or Alpine Diesel. With the very cold temperatures we are expecting over the next few days, we are likely to see problems with frozen diesel, so also advise using anti-gelling additive (for diesels only)," says Nick Malkin, Senior Manager Resort Operations.
Mt Hotham Resort Management Board staff will be on the roads monitoring conditions and assisting travellers if required.
The snowy conditions are typical for early August, which generally sees great conditions and bigger dumps. This means it's wise at this time of year to pack a shovel to dig out your car at the end of the day, and to keep your chains on when you are parked.
"Trying to fit chains in a metre of snow when you are keen to get home is pretty frustrating, so we suggest people leave their chains on for a stress-free departure," says Mr Malkin.
Visitors keen to ski backcountry areas are urged to check Hotham's daily snow report by Ski Patrol Director Bill Barker, with increased avalanche danger in areas outside the resort due to the heavy snowfalls in a short period.
https://www.mthotham.com.au/on-mountain/conditions/snow-weather
For more information about travelling to Mt Hotham over the next few days, visitors are encouraged to visit Mt Hotham's information page, which will be updated according to current conditions: https://www.mthotham.com.au/discover/connect-with-us/latest-news/useful-hotham-information