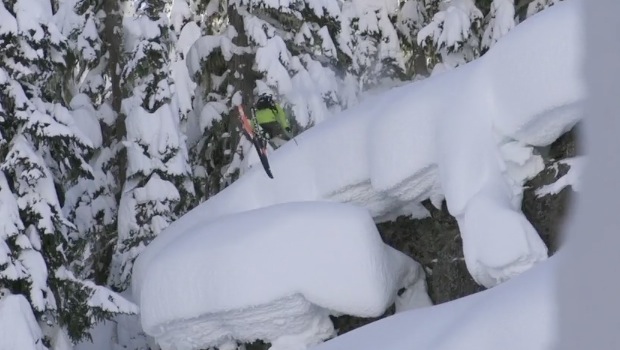 In summer, pillow zones look like unclimbable fields of 10-50 foot boulders and cliffs. Covered with feet of powder, suddenly a giant boulder field turns into a bouncy playland descendable by fat skis and a committed skier.
Some describe pillow fields as a "series of flat landings". Which isn't too far from the truth. Each pillow has stacked up powder that requires a very well positioned landing to immediately jump of the next pillow. Filled with trap doors one can fall into and the occasional uphill landing, a carefully pre-selected line is optimal for a safe and manageable descent. Pillows are challenging and present a high degree of difficulty, but when descended properly can be one of the most fun ways to get down the mountain. Suddenly you're in the air nearly as much as on the ground. You're bouncing down the mountain, flying off of blind airs, landing on small pads of snow and rebounding into the air once again. The whole thing feels like jumping down a mountain full of trampolines.
With new ski technology, pillows are skiable like never before. From high tech touring equipment that allows you to get up and around steep slopes to the top of pillow lines and hold you in safely on the way down, to fat skis that bounce as opposed to sink into the snow so you keep momentum through the line. Twenty years ago, pillows would have been nearly impossible to ski. Skinny skis would sink and touring equipment would have blown up on every landing.
With the progression in technology, pillow skiing is quickly becoming one of the most sought over forms of skiing. Its challenge and incomprehensible feeling of bouncing down the mountain will lure many more for years to come.