Features
THE ARROW PRIVATE HOTEL ARROWTOWN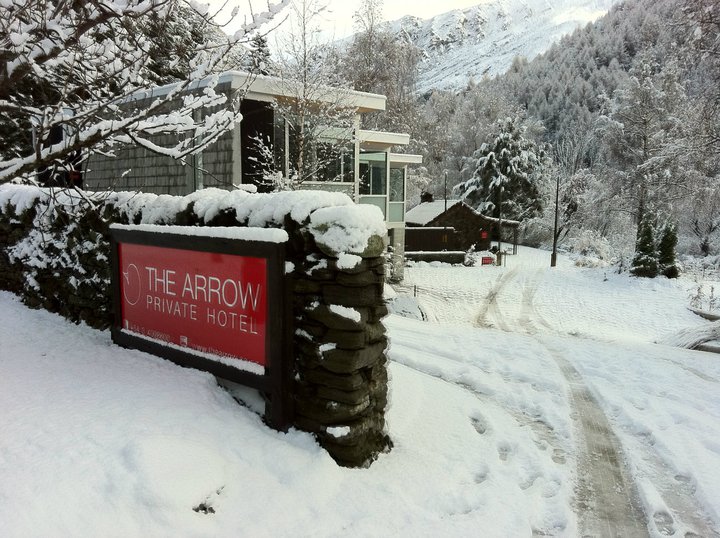 Guests at 'The Arrow' don't even have to leave their suites to purchase some local delights for long-term memories of their unique experience. Owner Tim Hemingway predicted that if he selected the right locally made fare, from flax baskets to furniture and used these items to best advantage in the hotel suites, then there would be more than just a room on offer. His novel concept worked and the retail experience mingles comfortably with the relaxation and unique styling of his luxury suites. Tim explains that guests regularly purchase the flax baskets that are made by local artist, Jasmine Clark and used in each of the suites. Then there is the couple that following an enchanted evening in their courtyard watching the sun set across the stone walls and tussocks purchased four of the outdoor chairs and side tables, made just down the road by local designer and wood worker, Allan Perry. 'It's great for our guests and our local community' says Tim. 'We enjoy providing guests with that small piece of their experience to take away as their own.' Situated just five minutes walk from Arrowtown's main street, 'The Arrow  is a recent arrival bringing a new style of holiday experience to Arrowtown.  With only 5 private suites and a historic stone cottage as the hub, 'The Arrow' has a very individual design persona and owner Tim Hemingway has achieved what few others can – a sense of making you feel like you're the only ones staying there. The vibe is understated wealth with impeccable service and the stone cottage provides just that place to ensure no one is ever traveling alone. Tripadvisor tells an exemplary story of guests who really enjoy the style of the suites and the personal service. In the early evenings, guests frequently join the host for canape's and a refreshment of choice before venturing out for dinner in one of the fine local restaurants. Tim regularly drops guests off for dinner to one of about ten restaurants on offer in Arrowtown. 'Picking guests up from dinner is a great way of getting first hand knowledge of what our guests are looking for when they dine'.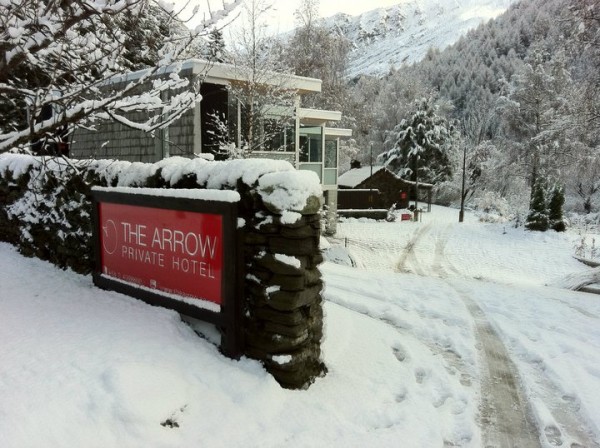 With a huge back yard that includes Coronet Peak station and tracks and trails that can take you over 40km away to Wanaka, modern pioneers venture up the Arrow River to Macetown where a century ago fortunes were made finding gold. Those less adventurous head along the Arrow River to Gibbston Valley. A recently opened extension of Queenstown's ever expanding trail network. The modern design style of 'The Arrow' is grounded by a historic cottage with thick stone walls and an open fire which warms guests late into the evening. The Hotel's communal guest area is a clubby, elegant combination of the past and present, where a large oak dining table and huge round calf skin covered ottoman share secrets with guests in front of the fire. Here an elegant collection of furniture, including some reclad leather chairs from the family past, can be enjoyed in stark contrast to the highly contemporary fit out of the guest suites. In stark comparison to the stone cottage, the contemporary suites, designed by Justin Wright of Assembly Architecture, have fun and romance stamped all over them. Stylishly decorated in a 'minimalist with comfort' way, they contain a selection of locally designed furniture and accessories. 'The Arrow' have clearly made the environment and sustainability part of their architectural design brief. For example, LED lighting is used throughout the hotel and the bathrooms make use of the low water use Satinjet shower heads. 'It's all about doing our share in a practical way without compromising the experience we provide for our customers' says Tim. As 'The Arrow's owner, Tim Hemingway, concedes: 'It has not been without challenges, helping people stay in a climate they're often not used to, especially in winter when temperatures have dipped below -10 degrees' People looking for a cheap ski holiday or weekend away probably won't book in to The Arrow Private Hotel. However, guests seeking a unique very personalised holiday experience may not blink at the tariff of $415 a night for two in a Luxury Super King suite. With it comes refreshments and canapes in the old stone cottage in the evening and a tasty breakfast for two delivered to your room via a carefully camoflauged 'secret' cupboard. The Arrow Private Hotel is small but well formed. It does not try to be everything to all, instead packaging up some of Arrowtown's unique culture for guests to enjoy. From furnishing and furniture to food and fine wine, 'The
Arrow' is a brand new experience in a town with a very long and prosperous past.
For more details see www.thearrow.co.nz or contact tim@thearrow.co.nz or
03 409 8600.