Gear
Ultimate Visibility. Extreme Protection. RUROC launches the unparalleled RG1-X Helmet System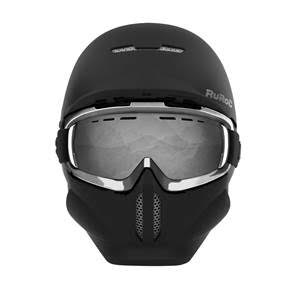 (London, England) RUROC is set to launch the ultimate in on mountain protection, the RG1-X Helmet System. Designed exclusively by boarders and freestyle skiers, RUROC's patented system boasts seamless integration between helmet, protective facemask and anti-fog goggles, providing superior protection, and unsurpassed functionality.
RUROC is first-to-market with a detachable full-face mask, which seamlessly integrates with their ASTM 2040 certified helmets, and is designed to defend from backcountry rocks, terrain park rails and sub-zero wind chill. With the snap-in facemask, the helmet can either be worn in full-face cover mode, or as an open face helmet – ideal for gray or bluebird days. The flawless connectivity between each integral part of the system works to prevent facial injury, eradicate goggle fogging, while maximizing rider visibility.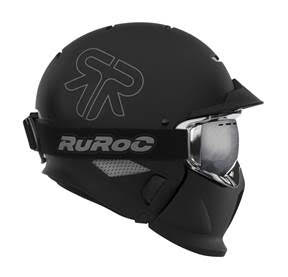 –
With a protective Injection Moulded ABS (Acrylonitrile Butadiene Styrene) outer shell, an internal energy absorption EPS liner and adjustable comfort padding for optimum fit and comfort, the RG1-X is arguably one of the toughest, yet lightest helmets available on the market, weighing in at a mere 700 grams.
RUROC's patented Aeroflow™ Anti-Fog System features a series of vents that channel cold air up through the mask and helmet to prevent goggles from fogging. With a 180-degree full field of vision, RUROC MagLoc™ goggles boast a dual paned ventilated magnetic, interchangeable lens, so riders can respond easily and quickly to weather changes. The MagLoc™ lenses, the first magnetic lenses on the market to include in-lens ventilation, are secured by a dual locking mechanism to prevent the lens breaking away in a collision.  All RUROC lenses feature UV400 certified protection and the goggles can be worn over glasses.
The RUROC RG1-X along with the entire RUROC collection is available via www.ruroc.com. To view the RUROC brand clip please click HERE.
About RUROC
Since 2006, British-based RUROC has been providing world leading full-face protection against backcountry rocks, terrain park rails and sub-zero wind chill with their seamlessly integrated ski and snowboard helmet technology. Out on the slopes, their patented helmets have provided skiers and snowboarders a distinctive look of combined mask, goggle, and helmet. For more information of RUROC helmets, visit www.ruroc.com.