Features
Winter arrives with a bang at Queenstown's ski areas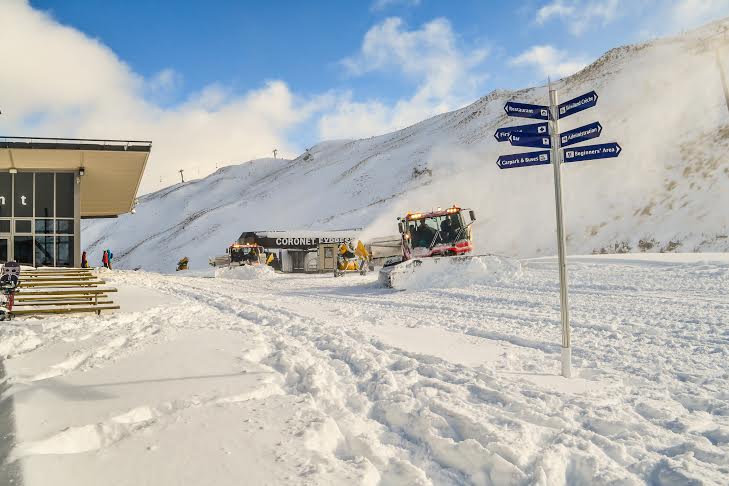 The latest southerly storm has given Queenstown's Coronet Peak and The Remarkables the best possible start to winter with up to half a metre of snow blanketing both ski areas.
Staff at Coronet Peak and The Remarkables found themselves knee-deep in fresh powder this morning.
NZSki CEO Paul Anderson said the snow was perfectly timed for Queenstown's winter preparations.
"This sets us up for a great start to the 2015 season," he said. "We've got our groomers out working to pack down the snow on piste and we can continue to make more snow on top of this fantastic natural base.  This early-season fall will give visitors confidence to book their ski holiday for the coming season."
The snowfall will help ensure ideal conditions for guests on scheduled opening days, less than three weeks away on June 13 for Coronet Peak and June 20 for The Remarkables.
The cold snap is expected to deliver further snow flurries to Queenstown throughout today (Monday May 25) and into tomorrow. The forecast is for continued cold temperatures through until at least Wednesday, providing perfect conditions for snowmaking at Coronet Peak.
"Things are in good shape at Coronet Peak and we're looking forward to a big winter season," said Coronet Peak ski area manager Ross Copland. "This fall creates a great base for us to build on over the next three weeks."
Over at The Remarkables it was a similar story. Taking a break from putting the snow blower to good use around the new base building, ski area manager Ross Lawrence was all smiles.
"Snow clearing continues around the site and especially on the road, and we brought all our contractors up in a bus this morning," he said. "A grader's working full time and we have one of our groomers helping clear snow off the road as well. It's continuing to snow moderately!"
For information on passes, rentals and lessons and to keep track of conditions in the lead up to season opening, go to