News
Chugach Calling Front lining AK backcountry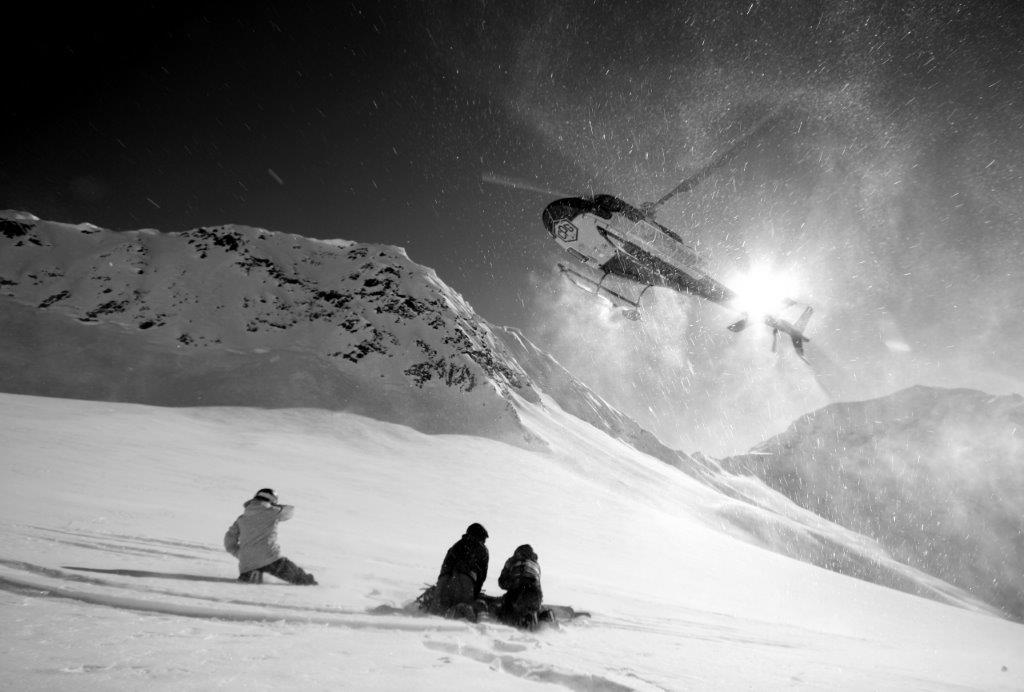 Pre-dawn on a late date of a bone-chilled February, and the phone is ringing.
From the nether of half sleep you know. It's the call; the call you've all but prayed would come yet, in some ways, feared to receive.
You rise, answer. And a bodiless voice from beyond the line says,
"Congratulations, you're going."
*
Ranging nearly seven million south central Alaskan acres—of which 30 percent is ice-locked–the Chugach National Forest's sprawling, gulf-shored wildlands are considered among the top-three largest forests in the United States. Its mountainous ramparts span an area 400 kilometers long by nearly 100 wide, rocketing from sea level to Mount Marcus Baker's 4,000 meters in a mere 16 kilometers while bristling fourteen additional peaks surpassing 2,400 meters along the ascent.
Wild-hearted wanderers endearingly refer to its expanse as "Alaska's backyard" while powder hounds, specifically, plan by the wintery knowledge that the right day in the vast Chugach can mean the best skiing and snowboarding in the world.
Life-long dedication to pure snow passion has, somehow, manifested a dream; backcountry, in Alaska. The words shine like sun flare at the forefront of your consciousness. But more, you're attentive to this: once immersed within that raw, crystalline wild no forecaster or guide, nor the several million dollars worth of 20,000 moving parts carrying you, can offer absolute assurance of what actually happens next.
*
 "It's something different, so why not go for it?"
B.C. Chris, your new pow-day best mate, is leaning forward on the seat of a guide-driven van bound for base camp. He's grinning like the cat who just grabbed the dream canary and you can hardly blame him, because he has. After a seeming eternity of planning, untold hassle (sifter profiling as 'random' selection) and travel expense, Chris—as well as yourself–have made it; taken the risks to reap the reward.  This buzz won't fade, not today, not ever. If a mere gesture can encapsulate a pilgrimage to the Last Frontier, then that sun-browned grin is it. It evidences the seeker upon a rite of passage.
The state's near endless stretches seem only matched by the limits of imagination, yet you already know by heart the relatively few names comprising its go-to jump points. Haines, Valdez, Cordova and gritty Girdwood, the mere intoning of those town's rings like siren song. And, if the mind's eye conjures accompanying images of crisp lines cut through billowing drifts, then an inner voice simultaneously urges the inevitable, "What are you waiting for? Get after it."
Initiate:
The alchemic first step which converts wish to reality is study.
A basic search for guided Alaskan snow-fari services reveals Girdwood-based Chugach Powder Guides [CPG] as a foremost provider. Ask any Alaskan with a set of snow gear and they'll tell you CPG reps among the best in the biz. Focused upon safety and sustainability, the twenty-one year-old guide company operates exclusive heli and cat-ski access to Chugach National Forest terrain, all but staking that immense tract of AK's unspooling bush as your personal playground.
"We ski a north-to-south range of 240 kilometers or so, call it 750,000 ski-able acres, but it's probably more than that." You're talking with CPG General Manager Henry Munter and he wears a contented smile. He's an elusive lifelong ripper-turned-family man who, every ski season, spends more time on snow than off. The man's got about two free minutes in every twenty-four hours and today he's allotted them to you.
"South East Alaska, specifically, is widely known as one of best places in world to go skiing," Henry is eagerly nodding, it's a subconscious gesture brought about by pleasant thoughts. "A large part of that draw is heli-skiing," he says.
Anybody who's ever seen a snow-vid can attest that heli in AK is among snowsports' pinnacle experiences, but its window of opportunity is not infinite and seizing a day might require a tactical waiting game of several more.
Once granted, a heli-day's prescribed format intends tracks to progress upon their priors, resulting, ideally, in successively sweeter drops.
Such graduated backcountry delving melds wildcat joyrides with safety-conscious acclimatization amidst formidable examples of planetary geography.
To maximize the experience, today's veteran guides have urged conditioning and, though the mention may seem oddly obvious, pow-centric gear.  The point: nobody wants to be the fella caught out amidst AK's fickle weather windows with the skateboard-sized park stick on that waist deep, blower day.
Forecasting, planning, assessment and execution are essential components to each season's approximate 1,200 to 1,600 heli user days. For CPG today's mission sees guided teams deployed from first to final light, all equipped with airbag, transceiver, probe, shovel and anxious energy. For you, that early A.M. call has ripped you from pajamas and cozy bed to full kit and launch pad in a matter of moments.
Day 1 is to be taken by air.
Launch:
On the tarmac, the team shares introductions. Then it's all business. One guide gives safety briefings while still others check the gear.
Hands move with steadfast pace. Any second HQ, the hinge point to this dance of many parts, will squawk the signal that sends the helicopter skyward.
That call, seemingly ever-waited upon, yet never failing to surprise, sparks a lift off surely likened to the epicenter of an eruption. The action is so clatter-bang roaring that your senses actually mute, resulting in supremely surreal stillness. The power of lift breaks that silent spell, but grants also sudden freedom from the earth.
You're airborne now and squarely in the capable hands of one rangy, sky cowboy pilot. He, and the fabulous whirly bird, are literally your ticket to ride. The subsequent scout for the day's prime lines almost verges on tourism. These peaks are knife points, their streaking ribs draped in silk fresh snow. A ridge line drifts near. The skids grip the snow. A side hatch pops open and you step into dreamscape.
It's all downhill from here.
The Drop:
A snow-steeped face falls sharply from the snow-packed summit.
In the distance, the AStar B3 Helicopter is already little more than a receding speck.
First you eye the slope then each team member. You're strung out along a curving, treeless ridge, gazing after the guide who's already dropped. This is the line you've searched so far to find.
Perched atop the peak you spy the guide who'd gone ahead. He's been reduced by elevation to ant proportion. He waits in full sun at the basin below, eyes craning to follow the snowy flank that counts toward the day's 18,000 vertical feet achievement.
The sky is cloudless, the wind calm, and your pulse; hammering.
One by one, each waves the others well before beginning the glide that will become their plunge.
Core Shot:
Open space, compounded by deep snow, produces altered time.
Seconds, minutes, days; the points by which our seasons (indeed lives) are defined fall away. Physical reality and perceptive sense co-mingle to create a single stretching instance of velvet still flotation; an infinitely named yet uniquely un-label-able centering, a fleeting balance, felt by all snow faithful and evidenced to be happily at home on Chugach lands.
Twice as Nice:
Day 2, and picturesque Notch Mountain, nestled three miles into AK's Girdwood Valley, spools its tree-speckled topography past the storm-buffeted windows of a climbing Chugach Powder Guides [CPG] Snowcat.
An eight day storm front has amassed over 200 swirling centimeters atop the Chugach National Forest—100 in the last three days alone. To you, strapped jump seat within this motorized snow stalker, it's a palpable notice of a backcountry push far different than achievable by helicopter.
Beside you, Operator David Fredericksen grips the controls. His hands are still, his gaze steely. He has churned the tank-treaded passenger cat to the morning's first drop point, emitting twelve clients, two guides and a heap of gear into a howling, off-white maelstrom.
Lead guide Rob "Durny" Durnell grabs your shoulder and leans in close, "You've gotta love it." The veteran forces his words through snow-clogged air. "This snow via helicopter is very rare. It's a cat-ski day."
Pagan Magic:
Four years of thin to non-existent accumulation at the valley floor had sequestered CPG's two-cat fleet to restless disuse. Nothing a few full-nude snow dances couldn't fix, and 2017's stable sea-level snowpack has frozen the leads that had bound the beasts; loosing just in time for today, and with all flights grounded, you sail upon today's sugar sea via Snowcat–or not at all.
Durny and co-guide Tatiana Lawson run point. They bring a combined two decades guiding experience to Notch Mountain's maelstrom-ic arena and, behind them, vanguard into its dry, sifting drifts a crew comprising yourself, two Aussies, three oil men and a five-card-hand of New York boys best depicted a crossing of Hot Tub Time Machine cast with that of The Sopranos.
You look back. Already, the snowcat is nearly lost in white out. You recall Operator, Dave's words as you'd jumped from its back hatch, "Tree lines."
The cat captain had looked to the surrounding mist draped hills with a ruddy smile. "Today is a heads up situation," he'd said. "Avalanche conditions are considerable, so stickin' to trees is a good deal."
His gravity is wisely applied, as is the daredevil smile. Your own quickened pulse mimics its raw, adventurous energy.
Upped Game, Lowered Altitude:
Below you, trees are indeed the dominant features upon a rolling, snow-dashed face. Through low visibility, brought on by heavy wind and close cloud, the bristle bough-ed groves serve as topographical markers and your anchor against vertigo.
Amongst the dune-piled trunks you will find leeward shelter, solitude and Pow-Stash highways.
"Girdwood," Durny would later say, "is the ski capital of Alaska, with all the snow adventure amenities."
"If there's snow–and it's able to happen–we're skiing."
Durny and Tatiana point out the features that mark the zone of safest descent. That important task done, they give the green light.
Anxious energy ripples through you, a seemingly audible signal to rival the wind's bellow. From over your shoulder, it's the NYC crowd, two in particular, who voice the excitement universally felt. Brooklyn boys, Gary and Larry are amping each other—as well as you–with aptly applied, explicative-peppered sentiment.
Beside you, Tatiana gives the signal.
It's one by one into the mist…
Before day's end you'll track 24 kilometers of rugged Snowcat travel and over 3,000 vertical meters before you. It's a routine day in the Chugach wilds.
"Alaska adventure is the biggest lore out there," Durny is pulling off his helmet, reaching for a hot drink. Is crew is safe home at the end to an epic day. "Once at the Last Frontier, going off-path is the next step."
"There's something powerful about being able to dance in such landscape–and do so safely," Tatiana takes the chair beside her co-guide. Outside the storm is lifting as light falls. "You feel alive, mindful and present; things we humans instinctively seek."
Manifest Methodology:
"CPG works a lot on moving farther and deeper," said CPG General Manager Henry Munter, "we're constantly learning from each year's differences."
"The most interesting aspect of exploration is then figuring out how to make more accessible those places that were previously near-unreachable giant leaps."
"The history of what people have been achieving in Alaskan ski terrain is mind blowing," Henry's grin recollects the accomplishments of the region's snowsport forefathers. "There's no way of knowing where a first descent might be but, that said, you often later learn of some guy who, twenty years earlier, trekked to ski that same gnarly zone."
"Trekked," he reiterates. "To understand and be a part of that is humbling."
"Here we take pride in heritage and skiing," Henry said. "Clients, like yourself, desire to experience that culture while skiing steep, far away and untouched zones."
"Every ounce of local effort goes to creating that."
Reflection:
For its offer of release through pure experience, Girdwood's culture and skiing seem magnetic. The valley's waiting epic leads, ultimately, to appreciation: an itch that scratches itself.
"It's a culmination of parts working in synthesis; taking groups to see something never before seen and bringing them back safely," Tatiana said. "It's kind of a miracle, really."
"When you return," Henry adds knowingly, "it's because a great day in the Chugach can be the best there is."
From peak perspective descents seem simple pitches. Looking back reveals the mountain's true magnitude.
Rooted in these lands is a lesson: scale is specific to experience.
"Sometimes, people arrive to Alaska intending to prove something," Henry Munter leans back in a chair with an angled view of Mount Alyeska's Northface. "Very quickly, however, they realize being out in the Chugach is not about ego or feeding your social media profile."
"It's about great days on mountains. That's it."
"Alaska offers amazing powder skiing on a big, long runs," he said. "That's what the core rider returns to seek."
Words, P.M. Fadden
Photos, Corey Anderson