News
Kiwi's qualify for Burton U·S·Open Slopestyle Semi-Finals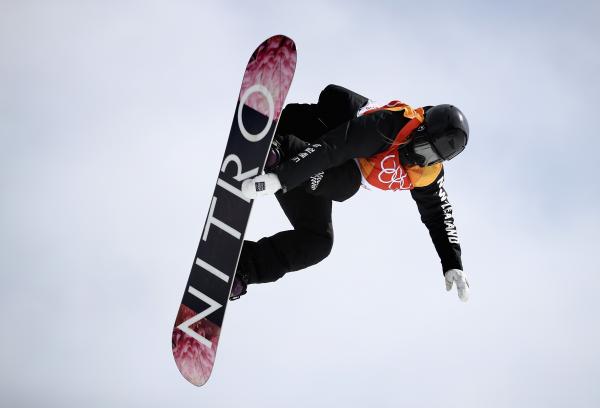 Kiwi Zoi Sadowski Synnott & Dusty Henricksen Qualify First in 2020 Burton U·S·Open Slopestyle Semi-Finals
The slopestyle semi-finals competition went down today at the 38th annual Burton U·S·Open Snowboarding Championships with the field of 32 men and 16 women competing on perfectly sculpted features in an updated slopestyle course design. Zoi Sadowski Synnott (NZL) and Dusty Henricksen (USA) earned the top scores in the two-run semi-finals leading the field of six women and 10 men advancing to Friday's slopestyle finals for a shot at the coveted Burton U·S·Open title and a piece of the $373,000 overall prize purse.
The women kicked off the first day of pro competition with a stacked field battling it out in ideal sunshine conditions. Defending Burton U·S·Open Champion Zoi Sadowski Synnott earned the top score of 75.15 on her first run. She linked up a switch boardslide into a 50-50 frontside 360 out on the upper urban features, into a backside 540 stalefish and a switch backside 540 stalefish on the two transition features. She followed with a 50-50 wildcat on the high-speed rails, and finished with a huge frontside 720 mute grab on the final kicker. Sadowski Synnott said, "I really like the course, I'm really down with how the quarterpipes are set up on the course so you have to hit them on a specific side, it really shows who the best all-around rider is." Sadowski Synnott plans to step up her run in Friday's finals, she said, "I have a lot more in the bag for Friday." Hinting at some added rotations on the quarterpipe features.
Anna Gasser (AUT) took second with a score of 71.35 throwing down a massive switch frontside 900 double cork Indy grab on the final kicker. Hailey Langland (USA) clinched the third spot in her final run with a score of 69.55.
The men's competition ran in the afternoon with low light conditions adding another level of challenge. Seventeen-year-old rookie Burton U·S·Open competitor Dusty Henricksen (USA) took the lead in the first round and held onto it earning the top score of 80.75. Henricksen linked up a 50-50 backside 270 out and a lipslide pretzel out on the upper urban features, into a switch frontside 900 double cork Indy and a frontside 900 double cork Indy on the two transition features, followed by a massive, crowd-pleasing switch noseslide pretzel 450 cork out on the high-speed rail, finishing with a backside 1080 double cork melon grab. Henricksen is coming off recent wins at the U.S. Grand Prix slopestyle at Mammoth Mountain and the Winter Youth Olympic Games Lausanne 2020.
Henricksen jokingly credits his performance today with sleeping in this morning. He echoed Sadowski Synnott's enthusiasm for the course, saying "The course is so fun. I love how they switched it up with two mandatory side hits, it definitely changes up the level of the riding a lot." As for finishing in first place in semis he says, "This is absolutely wild—I'm in a dream right now. This is definitely a dream come true."
Darcy Sharpe (CAN) took second place with a score of 78.30 putting down a super stylish run, earning his highest scores on the upper rails with a backside 270 on 270 out and a switch backside pretzel out. Staale Sandbech (NOR) followed with a 78.05 for third place. Defending Burton U·S·Open champion Red Gerard (USA) finished in ninth place to qualify for Friday's slopestyle finals.
Competition continues tomorrow Thursday, February 27th, with the women's and men's halfpipe semi-finals on Vail's Golden Peak with returning champions Scotty James (AUS) and Maddie Mastro (USA), 2020 Winter X Games Gold Medalists Queralt Castellet (ESP) and Taylor Gold (USA), and Silver Medalist Yuto Totsuka (JPN); Arielle Gold (USA), Danny Davis (USA), Benjamin Ferguson (USA), Pat Burgener (SUI), Xuetong Cai (CHN), Jake Pates (USA) and Toby Miller (USA) among others competing to earn a spot in Saturday's halfpipe finals.
Tonight starting at 6:00 pm MST, check out the Junior Jam Presented by Clif Bar & Company awards, plus the Clif Bar Best Trick awards on the Solaris Concert Stage, followed by the Burton Concert Series featuring Ghost Light & Luke Mitrani. Also join The Chill Foundation at the Colorado Ski & Snowboard Museum in Vail Village at 8:00pm MST for a fundraising celebration of Chill presented by Nokian Tyres.
Women's Slopestyle Semi-Finals Results
1. Zoi Sadowski Synnott (NZL), BURTON, 75.15
2. Anna Gasser (AUT), BURTON, 71.35
3. Hailey Langland (USA), VOLCOM, 69.55
4. Enni Rukajarvi (FIN), VANS, 68.45
5. Jamie Anderson (USA), OAKLEY, 66.40
6. Miyabi Onitsuka (JPN), RED BULL, 65.75
Men's Slopestyle Semi-Finals Results
1. Dusty Henricksen (USA), MONSTER, 80.75
2. Darcy Sharpe (CAN), MONSTER, 78.30
3. Staale Sandbech (NOR), OAKLEY, 78.05
4. Yuki Kadono (JPN), NITRO, 77.35
5. Judd Henkes (USA), RED BULL, 76.95
6. Sven Thorgren (SWE), MONSTER, 75.60
7. Hiroaki Kunitake (JPN), BOOKOFF, 73.50
8. Sebbe De Buck (BEL), MONSTER, 71.75
9. Redmond Gerard (USA), MOUNTAIN DEW, 71.45
10. Torgeir Bergrem (NOR), VOLCOM, 69.55
Be sure to download the Burton U·S·Open app for all the information around the 2020 Burton U·S·Open, including the competition, event and programming schedule, results and more. The app is available now through Google Play and the App Store. Also follow #BurtonUSOpen and catch the competition including the halfpipe and slopestyle semi-finals and finals airing live and on demand on Red Bull TV and BurtonUSOpen.com,