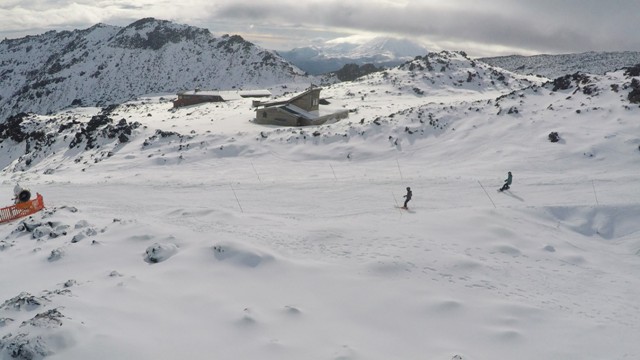 MT RUAPEHU, 2 JUNE 2018: Under blue skies and crisp winter conditions Mt Ruapehu's ski season officially opened today with hundreds of skiiers and snowboarders taking to the slopes.
Ruapehu Alpine Lifts (RAL) Chief Executive says that it's great to see so many people enjoying the early season snow.  "Sightseers, skiers and snowboarders are all enjoying a great day on the mountain and I'm sure they will back for more."
Happy Valley ski area is fully operational with lift-accessed sledding, the chairlift and carpet lifts open. The Rangatira Express is also open for the weekend offering skiing and snowboarding on Whakapapa's lower mountain – the earliest the express lift has ever opened to the public for a winter season.
"Thanks to the our snowmaking technology and a helping hand from Mother Nature we opened Happy Valley yesterday for free skiing to kick off the season," Ross says.
"The early start means skiiers and snowboarders can polish their skills on the gentle slopes of Happy Valley and then move on to other parts of the mountain as the season progresses. To also offer the lower mountain a full two weeks before its scheduled opening is a massive bonus for pass holders."
New Zealand's highest café, the Knoll Ridge, is open for sightseeing with spectacular views across the North Island. Whakapapa's new mascot 'Skiwi' is on the slopes, live music is playing in the Base Area and a 'June learn to ski package deal' is on offer, all adding to today's opening day fun on the mountain.
'First Chair Winners' – Jonny & Guy – took away some Dragon Goggles & Official 'First Chair' tees for being first on the Double Happy Chairlift this morning.
The next Mt Ruapehu ski area scheduled to open is Turoa on June 29, then Whakapapa Upper mountain following on June 30.
More than 2,700 people headed up the mountain on opening weekend last year setting a 10 year record high and this year the Mt Ruapehu team is hoping to break that record. More than 1,200 guests had scanned through lift gates before midday and numbers were steadily increasing into the early afternoon.
Whakapapa is the first commercial ski area to open in New Zealand and offers skiers and snowboarders the longest scheduled winter season in the country, operating through until Labour Weekend in late October.
RAL installed the Snow Factory at the beginning of the 2017 ski season and it's New Zealand's first all-weather snow making machine, capable of making snow in temperatures of up to 25 degrees Celsius.