Features
WINNERS OF THE 2014 VÖLKL WORLD ROOKIE FINALS ARE CROWNED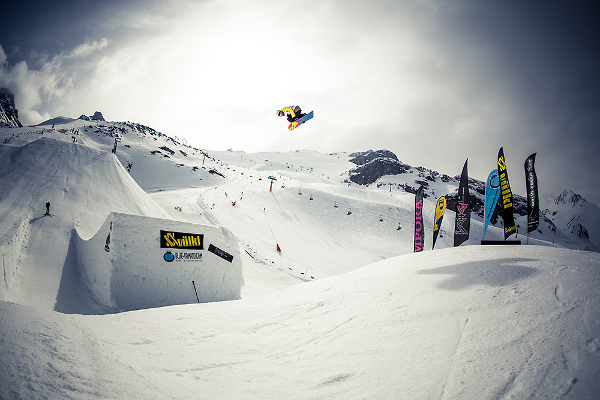 The final day of the 2014 VÖLKL WORLD ROOKIE FINALS (WST 3 star) proved that the future of snowboarding is in good hands. The world's best young snowboarders presented an amazing show at the snowpark Ischgl showcasing an impressive level of riding. For the first time in the history of the tour, the title of the World Rookie Champion is going to Japan conquered by Keita Inamura. 16-years old Katie Ormerod from Great Britain topped the podium in first as best Rookie girl. The contest format was judged in an overall impression – the best of three runs counts for the final ranking.
Keita Inamura (JPN) ended up as the best rider of the day killing it with a massive ride that would have placed well in an adult high class comp. The 17-years old shredhead went all out in his third run performing a Backside 1260 Melon and a Switch Backside 1260 Melon on the kickers, entering the jib-area with a Lip to Front Boardslide Gap 50-50 followed by a 50-50 Frontside 360 out and a Backside 360 on the pinkball – a solid basis for the young rider who received a wild card to the first edition of the Air & Style 2014/15.
Katie Ormerod (GBR) grabbed the female World Rookie Champion title impressing with a Cab 180 Indy and a cool Backside 720 Mute on the first two jumps followed by a 50-50 to Boardslide, another 50-50, a super stylish Frontside Boardslide before closing off with a Nose Bonk on the pinkball.
The Japanese wings were flying high this year: on the Groms' front it was Kaito Hamada (JPN) who took home the title of the best Grom with a huge run that would have placed him at fourth position in the Rookie category: Cab 900 Melon, Backside 900 Melon, Cab Hardway in Gap to Boardslide followed by a Front Boardslide 270 out and leaving the jib-area with a Bonk 720 on the pinkball.
Best Grom girl is Elli Pikkujamsa (FIN) who showed a Cab 540 Tail Grab and a Backside 360 Indy in the jumps, a 50-50 Ollie Tailbonk out, then a 50-50 Frontboardslide followed by a 50-50 Frontside 180 out and a Half Cab on the pinkball.
The Rookies and Groms took home prizes for an overall value of 20.000 US Dollar: 2 all-inclusive trips to the 2014 South America Rookie Fest in Chile, a wildcard to the first edition of next season's Air & Style, a filming session with Pirate Movie Productions, an Onboard photo-shooting, the Golden Ticket to all World Rookie Tour stops 2014/15, a couple of invitations to the 2014 World Rookie Tour events in Livigno, Monte Bondone and Ischgl, and many other prizes by the sponsors of the event – Völkl , Red Bull, Ischgl, Blue-Tomato, Pieps and Kopfarbeit.