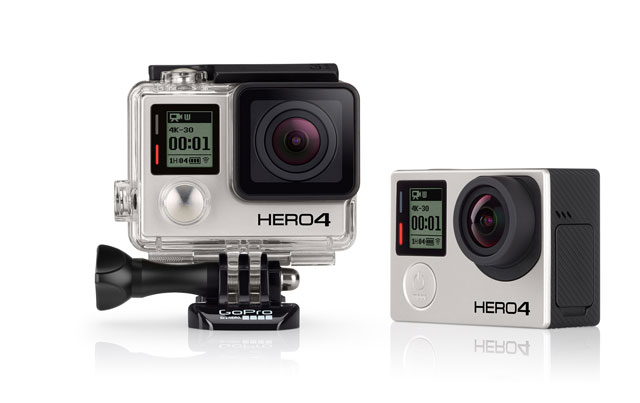 Go Pro HERO4
GoPro, Inc. has unveiled its newest addition to its range the HERO4, the highest performance line of capture devices the company has ever made.  HERO4 is available in two editions, HERO4 Black at MSRP US$499 and HERO4 Silver at MSRP US$399.  GoPro's Emmy® Award-winning imaging technology combines with enhanced ease-of-use and powerful new features such as 4K30, 2.7K50 and 1080p120 video capture (Black) and built-in touch display convenience (Silver), to make it easier than ever for consumers to self capture and share stunning, professional quality content of their favorite experiences. 
HERO4 Black delivers 2x the performance of its best-selling predecessor and now captures cinema-quality 4K video at 30 frames per second (fps), 2.7K video at 50fps and 1080p video at a blistering 120fps, virtually eliminating rolling shutter in most scenarios while allowing for time-bending slow motion effects.
HERO4 Black also features an entirely redesigned audio system that captures high fidelity sound with 2x the dynamic range of previous models. Additional enhancements include improved image quality, low light performance, highlight moment tagging and an improved user interface that allows for easier discoverability and access to key features and controls. The HERO4 Black is simply the highest performance GoPro yet.
HERO4 Silver delivers the same professional image quality as HERO4 Black less some of the higher performance video capture modes including 4K30, 2.7K50 and 1080p120. HERO4 Silver includes a brilliant built-in touch display for those who value convenience and ease-of-use over the no-holds-barred performance of the HERO4 Black.
The new HERO4 line will be available October 5 on GoPro.com and at select retailers worldwide.
"For the past twelve years, our passion has been to make it easy for people to self-capture jaw dropping, professional quality footage of themselves engaged in their favorite activities," said GoPro Founder and CEO, Nicholas Woodman.  "That passion led us to embark on our most ambitious design and engineering effort ever, and the result is nothing short of the ultimate GoPro—the HERO4 Black.  We can't wait to see what the world captures with it."